Back pain, backpacks and back to school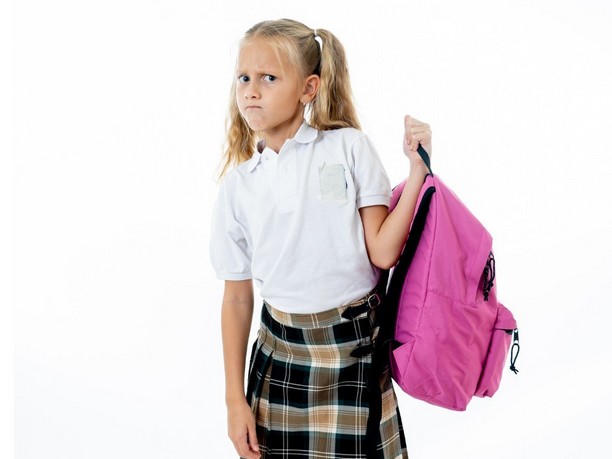 After much debate and discourse, the schools are finally back.  It's all very different of course – with bubbles, one-way systems, distancing, masks and sanitiser.  Many schools are advising that pupils make less use of their lockers – taking books and equipment home each night in case they need to isolate, or a local lockdown is imposed.  And pupils are being advised to avoid public transport and perhaps walk instead.
A weighty problem
But let's just take a moment to consider the practicalities – our children could now be carrying multiple text books, folders, a lunch box and a water bottle in a bag nearly as big as themselves. And that's before we even think about sports kit and equipment and possibly a musical instrument or two.
Of course, this issue isn't confined to children.  Adults returning to the office are also adopting a more survivalist approach to their commute – making sure they have everything they need for their day and carrying equipment back and forth rather than leaving it overnight.  All of which can lead to back, neck and shoulder issues.
As an Osteopath with over 25 years' experience, I've found that handbags and heavy bags can cause a lot of upper back and neck problems.  Over the years I've treated many patients with headaches and upper back pain related to carrying bags.
The other thing to look out for is headaches.  I was on a paediatric course last weekend and they discussed how heavy and badly carried bags can lead to headaches too.
It is generally accepted that school children should not be carrying more than 10 percent of their body weight. Given that the average 11-year-old may weigh around 75lbs (34kg), this means that their bags should weigh no more than 7.5lbs (3.4kg). Which equates to around three medium sized books and a lunchbox.  Some way short of what they actually carry!
Back in 2012, the charity BackCare claimed that half of children suffer back pain by the age of 14. And this 'new normal' where we carry our worldly school or office goods with us through the day isn't going to improve the situation.
Warning signs
Obviously, you can weigh bags to see what your children (or you) are carrying.  But there are a couple of other signs that a bag is too heavy:
Straps and handles leave marks on the shoulders
There are changes to posture/gait while the bag is being carried. Is a heavy backpack causing the wearer to lean forward as they walk?  Or does that over packed shoulder bag cause the user to lean to one side in compensation?
Picking up/putting on or removing the bag/pack is a struggle.
So which bags are best?
It's probably no great surprise that the short answer is the good old -fashioned rucksack is the best way to carry belongings in a posture and spinal friendly way.  Although wheely schoolbags for older children or adults with lots to carry (or a long commute) are also great.
Tips for picking (and packing) a backpack
Try to pick a hard-wearing, lightweight and waterproof pack with a padded back, wide straps and a waist fastening to provide extra support.
Look for internal compartments to separate contents – great for effective weight distribution but also handy when you need to find something quickly!
Consider it an investment – it's an expensive time of year but going for a cheaper option could be a false economy for something that gets used every day.
Adjust the straps so the bag sits high on the back and close to the spine, with the rib cage and pelvis taking the main load when the waist strap is fastened.
When it comes to packing, place the heaviest items nearest to the body.
Not necessarily fashionable advice, but always wear the rucksack over both shoulders never just one!
I've treated patients of all ages with a variety of conditions including sports injuries, back and neck pain, stress, menopause and fertility for over 25 years.
I trained at the British School of Osteopathy, the British College of Acupuncture and medical hospitals in Beijing, China. I am a renowned and trusted local practitioner with a wealth of experience. My expertise includes Osteopathy, Cranial Osteopathy, Acupuncture, Acupuncture for fertility (Zita West affiliation), electrotherapy and Cranial Osteopathy for babies and children.
I am also registered with the General Osteopathic Council and the British Acupuncture Council.
If your children or teens complain of aches and pains in their back, neck or shoulders then an Osteopathy appointment could help with the symptoms. I have two clinics – one in Orpington and one in Bromley so please do get in touch.