Getting into the garden? 6 ways to look after your joints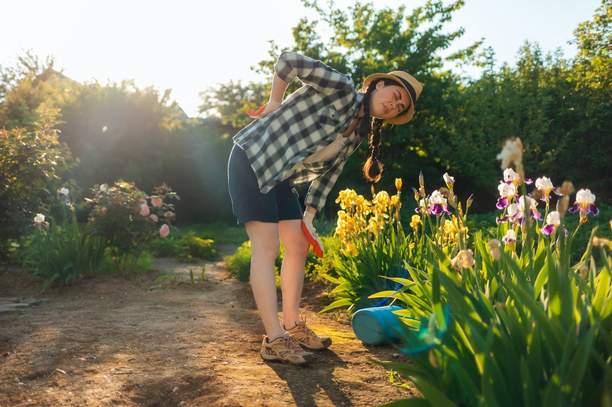 It's no secret that in the UK we're a nation of gardeners. According to the latest stats, there are around 27 million gardeners in the UK. And it's clear to see why. From boosting your energy, to getting some vitamin D and enhancing your creativity to relieving some stress – gardening brings numerous benefits.
But while it's all well and good staying active outside, there is one thing to keep in mind while flexing your green fingers in your outdoor space. And that's that gardening can be demanding on your body as Osteopath Denise Callaghan tells us. "So much so, you can strain your back, hurt your knees and cause yourself a mischief if you're not bending, stretching and gardening cautiously."
With more people getting into the garden now that spring has sprung, Denise has shared some easy-to-follow tips to look after your body while sprucing up your outdoor space.
Bend at the hips
Denise says: "A proper lifting technique involves you bending at the hips and knees and not your back."
If done properly, this should look like a squat which sees you bend at the hips, point your knees straight ahead, keep a straight back and come back up.
"So keep this in mind whether you're picking up heavy soil, bending down to dig or pull up weeds," Denise explains.
Keep your back flat
This is best practice for every day – not just when you are gardening. "Good posture is key to your overall health, especially when it comes to your back," Denise tells us.
Keeping your back flat while bending, lifting, walking or sitting reduces the strain on muscles and ligaments. "So continue to do this even while in the garden this April and beyond," Denise adds.
Carry heavy weights close to your body
Thanks to gravity, the further you hold the soil, gardening tool, potted plant, or other piece of garden equipment from your body, the more force you'll need to hold it up.
"This can put a strain on your lower back, as your body requires much more strength to hold the item up," Denise tells us. "So whatever garden object you're moving around in the garden, hold it close to your body."
Stretch!
This is something we should all be doing on a regular basis. Especially if you're in one position for a prolonged amount of time.
"Just like when you're gardening," Denise says. "Although gardening can be very relaxing, it can also involve a lot of manual labour. But stretching can help combat this. It keeps the muscles strong, flexible and healthy. It also helps us maintain a range of motion in the joints. Which is important for everyday tasks – like gardening."
Spread your chores out
If you're new to the gardening world, Denise recommends going at your own pace.
"Gardening is just like any other form of exercise," she tells us. "It's beneficial in so many ways. But it's important to listen to your body and rest as and when you need to. By taking it steadily, you can increase your gardening load slowly as you get fitter, more confident and stronger. This means you'll also be less likely to be in the same position for a long period of time and less likely to put yourself at risk of injury."
Get in touch
Whether you're suffering from a bad back, neck pain or need help restoring your body back to its optimal condition, don't hesitate to get in touch with Denise.
Denise has more than 20 years' experience in the field of osteopathy and has clinics in Orpington and Bromley.
She specialises in a range of osteopathy treatments that can help to get your body back to its working form, including acupuncture and lower back pain treatments.