Exactly how osteopathy can ease Irritable Bowel Syndrome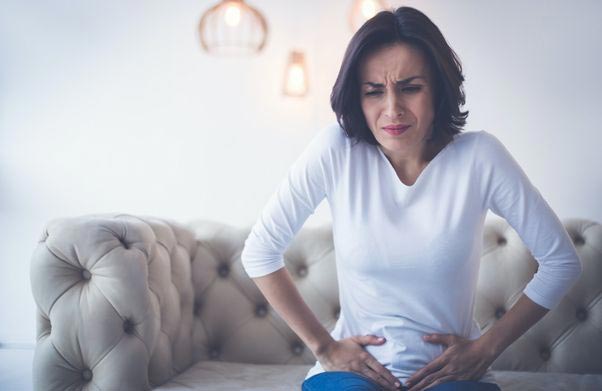 April marks Irritable Bowel Syndrome (IBS) Awareness Month.
Which is why we wanted to spread the word and share with you just how effective Osteopathy treatments can be when it comes to relieving symptoms of this debilitating condition.
Afterall, it's a common problem with around one in five people in the UK expected to experience IBS at some point in their life*.
So, what exactly is Irritable Bowel Syndrome?
IBS is a common condition that affects the digestive system. According to the NHS**, it causes stomach pain or cramps, bloating, diarrhoea and some people may suffer from constipation too.
These symptoms might not happen every day. Or if they do, there might be some days when your flare ups are better or worse.
Either way, IBS tends to come and go over time and unfortunately, this can last for days, weeks or months at a time.
What is the cause of IBS?
At present, there is no one answer that fits all. But many sufferers say certain foods, drink or stress can trigger the uncomfortable problem.
Osteopath Denise Callaghan said: "In some cases, IBS is a lifelong problem because the exact cause is unknown.
"Over the years, the cause of IBS has been linked to food passing through your gut too quickly or slowly, stress or oversensitive nerves in your gut.
"It's a frustrating problem to live with and can have a massive impact on doing everyday things. However, I have treated many suffers effectively through the use of acupuncture and cranial osteopathy."
Cranial Osteopathy and IBS
Cranial Osteopathy is a very gentle type of Osteopathy that's safe for patients of all ages.
You might think this type of Osteopathy is only ever used on children, but you're wrong. It can also be very effective in treating digestive disorders.
That's because it works by detecting areas of tension within the body, releasing and repositioning stuck tissues and muscles and getting the body back into balance.
Denise said: "After a treatment, many of my patients say they feel both relaxed and energised."
How Acupuncture can help with IBS
This ancient therapy originated in China more than 3000 years ago, only arriving in the West about 40 years ago. Adopting an holistic approach, Chinese Acupuncture seeks to restore balance within the body and maintain optimum ongoing health.
The insertion of sterile needles into any one (or more) of the body's 360 acupoints stimulates the flow of energy (chi) and re-establishes the crucial balance between yin and yang.
Scientific studies to determine its efficacy are ongoing but some data has shown that the therapy is effective for a wide range of gastro-intestinal disorders especially nausea and vomiting.
What our clients think
Denise has treated many patients suffering from bloating, diarrhoea and IBS.
Deborah Dial, a previous patient said: "I have seen Denise for many different health issues over the past 10 years, however I returned recently for Acupuncture treatment to help with severe digestive issues.
"After about three treatments, I saw a noticeable difference. Denise has an abundance of knowledge in so many different therapies and uses her intuition to help heal the body, whatever it might need.
"I have now had six treatments of Acupuncture and feel so much more positive that I can face these issues, instead of the repetition of constant worrying.
"I would recommend Denise as she is a highly trained professional making a big difference in helping people to understand, accept and heal."
In practice
Denise added: "In my practice, I often use Cranial Osteopathy in conjunction with Acupuncture to relieve the symptoms of gastro-intestinal problems as I find the two therapies work effectively together."
Please do get in touch if you have any queries or would like to find out more about how Osteopathy could help with Irritable Bowel Syndrome.
* https://www.nhs.uk/conditions/irritable-bowel-syndrome-ibs/
**https://www.bmihealthcare.co.uk/health-matters/womens-health/ibs-facts-for-sufferers#:~:text=Around%20one%20in%20five%20people,and%20embarrassment%20surrounding%20this%20condition.