"I was finally able to function' – how osteopathy helped combat Long Covid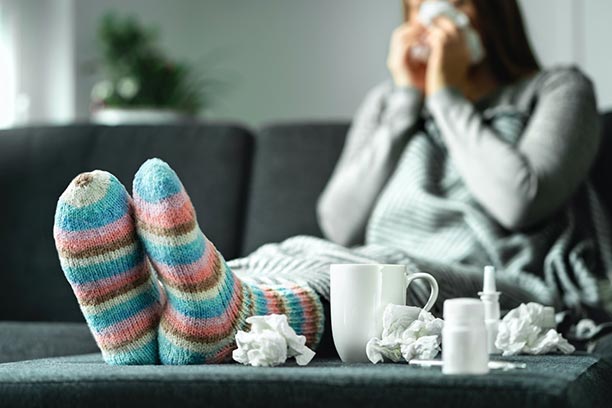 We've probably all heard far more than we want to about viruses in the past year or so. But sometimes it's not just the virus itself that causes a problem. When symptoms linger for weeks or even months after the original infection it's called Post Viral Syndrome.
The ongoing Covid pandemic has seen many people continuing to suffer in this way long after the initial symptoms have left their body. In fact, a new term has even been coined – Long Covid.
It's debilitating and can be depressing and there's no way to predict who it will affect or how long it will last.
What are the symptoms of Post Viral Syndrome and Long Covid?
Post Viral Syndrome symptoms can vary depending on the person and their immune system. But most sufferers describe feeling overtired and generally unwell. But some also report:
Lack of concentration
Headaches
Stiff joints/joint pain
Confusion
Brain fog
Swollen lymph nodes
Sore throat
Common Long Covid symptoms may also include:
Shortness of breath
Chest pain or tightness
Difficulty sleeping
Heart palpitations
Dizziness
Pins and needles
Depression and anxiety
Feeling sick, diarrhoea, stomach aches, loss of appetite
Rashes
Treating Post Viral Syndrome and Long Covid with osteopathy
Osteopath Denise Callaghan has over 20 years' experience and has helped many patients with the symptoms of post viral syndrome. Recently she treated Linda who had Covid in March 2020 and has been struggling with the symptoms ever since.
Linda said: "I had Covid in March 2020 and started seeing Denise for acupuncture in October for Long Covid symptoms.
"After the first few treatments, the ringing in my ears, headaches, tightness in my chest and coughing, stopped. Most importantly, the deep fatigue left me – I was finally able to function after seven months of being able to do nothing!"
Using acupuncture to help
Acupuncture works by stimulating the nervous system and causing the release of neurochemical messenger molecules.
The resulting biochemical changes influence the body's homeostatic state. It reduces sensitivity to pain and helps to promote relaxation.
It's been clinically proven** as an 'effective treatment option' for patients who suffer from persistent post viral symptoms.
Denise also uses cranial osteopathy. This gentle type of osteopathy uses specialised techniques to detect areas of tension and manually release it.
Linda continued: "Honestly, the acupuncture is the only thing besides rest that is helping me recover.
"I'm continuing to see Denise for the lingering symptoms that pop up, but I'm 90% healed. I'm so very thankful for Denise and her treatments. I'd highly recommend her to anyone suffering with Long Covid."
If you are suffering from any of these symptoms, why not give osteopathy a try? Denise has helped many patients get back to their optimal health. Get in touch to find out more or book an appointment today.
*https://www.medicalnewstoday.com/articles/326619#what-is-it
**https://www.sciencedaily.com/releases/2010/04/100401085342.htm#:~:text=Traditional%20Chinese%20acupuncture%2C%20where%20very,dysfunction%2C%20according%20to%20new%20research.