Struggling with Plantar Fasciitis? Check out these solutions to ease your foot pain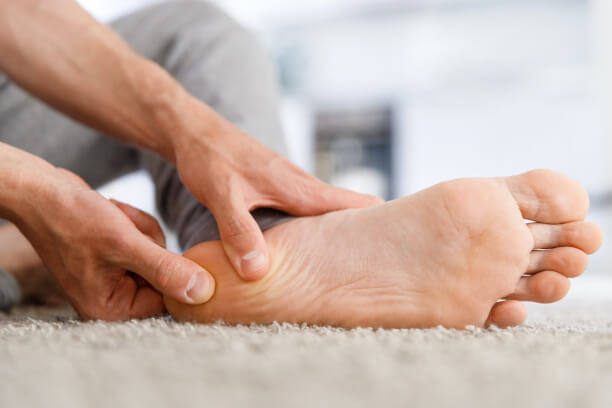 We've said it before and we'll say it again: the Covid-19 pandemic is having serious repercussions on our health.  From Long Covid to tech neck, the long term effects of the virus continue to mount.
The next area which osteopath Denise Callaghan believes the virus is also wreaking havoc on –  is our feet.
Rise in the number of foot problems
"When the government issued the 'work from home' order in 2020, many people took to the streets to pound the pavement to get their endorphins going, or took a stroll around their local area to get a hit of fresh air," Denise says.
And there's stats to back this up. According to the latest government statistics, the number of miles walked per person in 2020 increased by 7% to 220 – which is the highest level of miles walked per person since 2002.
"While any increase in exercise is brilliant news," Denise continues, "I'm now seeing a rise in the number of people who are suffering with foot problems. The most common condition? Plantar Fasciitis."
What is Plantar fasciitis?
Plantar Fasciitis is an inflamed or swollen plantar fascia. Your plantar fascia is the band of tissue stretching from your toes to your heelbone.
You might get an initial pain of stiffness in your heel when first standing. And this pain can be worse in the mornings or after long periods of rest. If untreated, it can be painful all the time.
What are the causes of Plantar Fasciitis?
Plantar Fasciitis – which was more informally called Policeman's Foot, is often caused by extensive walking on hard surfaces and doing so in unsupportive shoes.
Unfortunately, this condition can also happen more as we get older and the ligaments in the feet are not so strong, which can cause the foot to splay.
Generally speaking, Plantar Fasciitis is caused by:
A tight Achilles tendon
Overuse by walking or running
Walking or running on hard surfaces
It can also be a particular problem with people who have flat feet or high arches.
So what's can ease Plantar Fasciitis?
The good news is that Plantar Fasciitis can be managed. Denise can do so by taking a full case history and gently examining the affected and surrounding areas to help get to the root cause of the flare up.
Most of the time, Plantar Fasciitis can be prevented by wearing correctly fitting and appropriate footwear. The same could be said for adequately warming up and cooling down before and after exercise.
But this condition also responds well to gentle massage, electrotherapy and/or acupuncture. The latter can help to reduce the pain and inflammation in your tendon.
Plus, Denise can also prescribe you with some exercises to help you stretch and strengthen your lower leg and feet muscles.
Here's what one client had to say
Louise McIntosh says: "I have been having treatment from Denise for the past few months and I can't recommend her highly enough.
"Denise has proved herself to be wise, nurturing and highly effective at treating the wide range of health problems I have presented with – from my knotted and painful neck, neuralgia and now my painful feet.
"Denise treats in a holistic and very detailed way, I have rarely felt any pain from the needles, but I have always felt huge benefits and relaxation from the treatments.
I feel very supported and enriched by Denise and her expert and precise treatments."
Tips for dealing with Plantar Fasciitis
Denise says: "Recovery can be a slow process and it can be dependent on how quickly you seek treatment – the sooner you get some help, the better.
"If you think you are suffering from Plantar Fasciitis, I'd suggest you rest up as soon as possible, and be sure to cushion your feet in shoes with a soft gel support. Also, wear slippers at home, instead of walking bare feet on hard surfaces."
So, if you are suffering with any pain or niggles in your ankles and/or feet, please get in touch to see if I can help.